HEX
HEX is a flexible ensemble of strings, percussion, and electronics based on the East Coast.
In 2013, the Max and Marian Farash Charitable Foundation awarded the Sound ExChange Project a Cultural Creative Collision grant to fund interdisciplinary concert programs and educational activities. Two years of collaborating through the Creative Collision Project led the core artists of the Sound ExChange Project--then students at the Eastman School of Music--to form HEX.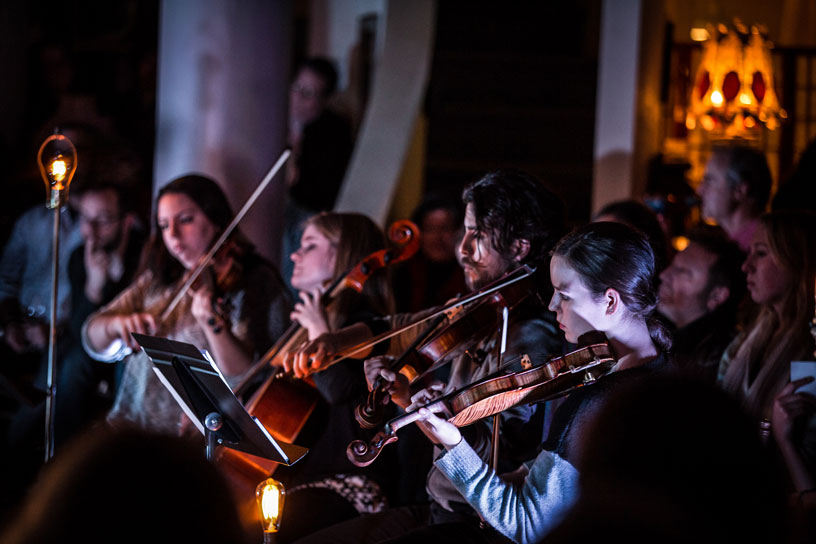 Kurt Fedde, percussion
Currently based in Baltimore, Kurt Fedde is an educator, composer, and percussionist. Hailing from the Eastman School of Music, he received his Bachelor's Degree in Applied Percussion, Music Education, and a certificate in the Arts Leadership Program. His favorite part about HEX/ALAUDA is working with his best friends to create music and outreach opportunities.
Lili Sarayrah, violin
A native of Amman, Jordan and Knoxville, Tennessee, violinist Lili Sarayrah believes in building communities through the power of music. A graduate of the Eastman School of Music and the University of Rochester as a student of Charles Castleman, Ms. Sarayrah earned a Bachelor of Music Degree in Violin Performance, an Arts Leadership Program Certificate, a Literary Translation Studies Certificate (Arabic-English), and completed the Kauffman Entrepreneurial Year Program with High Distinction. A member of the inaugural class of The Orchestra Now, a fellowship program with a tuition-free Masters of Music in Orchestral, Curatorial, and Critical Studies at Bard College, Ms. Sarayrah recently performed as concertmaster to solo on György Ligeti's Romanian Concerto at New York City's Cooper Union. She has appeared with Symphoria, the Binghamton Philharmonic, the Aspen Summer Music Festival Orchestra, OSSIA New Music and Ensemble Signal. She made her solo debut with the Knoxville Symphony Orchestra at age 11, and has most recently appeared as soloist with the Woodstock Chamber Orchestra.
Molly Germer, violin
A self-declared specialist at an early age in chamber music and collaborative performance, violinist Molly Germer now combines an enthusiastic advocacy of contemporary music-making with community arts and studio teaching. While completing her degree program at the Eastman School of Music, she studied with Charles Castleman and was mentored by the Ying Quartet. In 2014, Germer was awarded a scholarship to pursue studies in music cognition, movement, and collaborative arts at the University of Rochester while serving as a member of the Erie Philharmonic.
Relocated to New York, she has recently begun graduate studies in contemporary performance at the Manhattan School of Music, while continuing as a substitute for the Rochester Philharmonic Orchestra. She continues to collaborate with numerous groups in New York City and participates in music festivals here and abroad.
Alexander Peña, viola
Mexican-American violist, Alexander Peña, most notably serves as Director of ROCmusic, a life-transforming music education program that offers both group and private instruction within economically disadvantaged communities to help enable urban youth in Rochester, NY. His non-profit organization, inspired by the Venezuelan El-Sistema movement, is a partnership collaborative between the Eastman School of Music (University of Rochester), Hochstein School of Music & Dance, Eastman Community Music School, City of Rochester Department of Recreation and Youth Services, Rochester City School District, and the Rochester Philharmonic Orchestra.
As member of the Viola and Conducting teaching faculty at the Eastman Community Music School, Peña also directs the Eastman Beginning String Ensembles and New Horizons Full and String Orchestras. Alexander was recently honored with the title of "Extraordinary People" from WROC-TV and has been featured in the Rochester Business Journal, CITY Newspaper, Rochester 12 TV CityWise, and the Democrat & Chronicle. Peña is also a founding member, performing artist, and Director of Youth Education at the Lakes Area Music Festival in Brainerd, Minnesota.
Nadine Sherman, cello
Exploring non-traditional avenues of performance, Nadine Sherman brings music to the community as a cello soloist, chamber musician, and orchestral player. Collaborating with musicians, dancers and visual artists, Nadine performs an array of genres including structured improvisations, contemporary music, and folk.
Nadine is associate principal cellist of the Westmoreland Symphony Orchestra. She resides in Pittsburgh, PA pursuing her Masters Degree in cello performance at the Carnegie Mellon School of Music. Previously she received her Bachelors Degree at the Eastman School of Music, studying cello with Professor Doane and Professor Elliot.
Nadine is a Horatio Alger Scholar, Rotary Club Scholar, and was awarded a full scholarship to the Carnegie Mellon School of Music. She also runs her own business, Nadine Photography.
Press
Classical review: Sound ExChange presents HEX